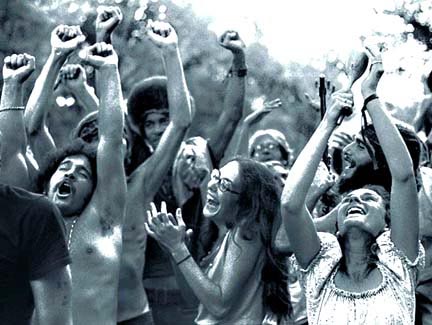 There's always this stretch in February and March when the Inspiration Deficit Disorder hits hard. The perpetual music influx survives (thank god) and the concert going continues, yet staring a blank page wipes out any remotely cool ideas that may have been brewing in my head. Last night, I dreamt that some friends and I were at a concert festival that had a massive slide; we were all sliding down on our butts, ice luge style, 60 mph, laughing like hell. Another good sign was that I woke up with Lady Gaga's Lovegame stuck in my head. It's time to blast the music through the courtyard again. The mental drought is over. Bring on the outdoor concerts, the rooftop beer drinking, the picnics, the open windows, blanketless beds, and vitamin D.
PS- For those of you who said their computers were freezing, I modified the upload number so let me know if it works.
Great remix.
The song I woke up with stuck in my head:
Because it's getting nice out again:
Iron & Wine.
Maybe everybody already knew this, but I had NO idea that Iron and Wine is just one guy. Samuel Beam. Anyone seen him live recently? He performed at the 2005 Bonaroo. My favorite is how he decided on his band name: the name "Iron and Wine" was taken from the name of a vitamin supplement, "Beef Iron and Wine," that he stumbled upon in a general store while shooting a film. Do they still sell that? Sounds like something we should all be taking on the reg.
Thanks Kay.
Big KRIT & Curren$y
Big K.R.I.T. - Moon & Stars Remix Feat. Curren$y & Killa Kyleon by Nothing Can Save You
Inspired Flight- It's the Chemical. so sick. thanks Ian.
01 It s The Chemicals (feat Scarub) by Inspired Flight